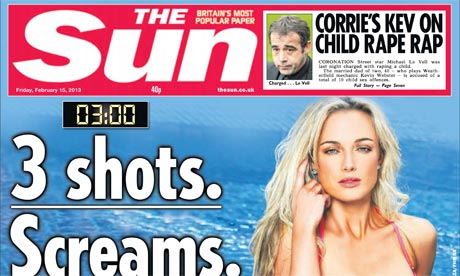 Oscar Pistorius Court Case
All eyes will be on Oscar Pistorius bail (bond) hearing tomorrow morning. His family, speaking on his behalf have made statements on CNN that the state (SA Prosecutors) have no substance to charge Oscar Pistorius for premeditated or murder in anyway. Newspapers and Television Stations in South Africa have reported that Oscar Pistorius shot his girlfriend four times through a bathroom door and then dragged her downstairs where she died. The news paper above says 3 shots were fired. Never the less it seems clear that Oscar and his girlfriend were in the home alone, so this leaves one speechless on how his family can outright deny that Oscar Pistorius never murdered his girlfriend.
This is going to be one of South Africa's highest profile court cases! In South Africa, like the rest of the world, getting off with murder is possible... with enough money to hire the best legal council in the country of course. Money will not be an issue for Pistorius, his legal team have already hired one of South Africa's best forensic investigators, whose report will be ready at Oscar Pistorius's bail hearing tomorrow morning 11:00am Pretoria.
Unlike the United States of America, South Africa's courts do not rely on a jury to find someone guilty or not guilty. Instead a Magistrate or a Judge (in some courts a panel) who will hear the matter and make a ruling.Pistorius is appearing in the lowest court South Africa a"Magistrates court". Other courts in South Africa in order from a Magistrate Court are a regional, high and the highest a constitutional court. The Magistrate may refer the hearing to a higher court to be heard, but news will only be known at a much later date.
Prisoners awaiting trial in South Africa can wait years before a court date. Many courts such as the High Court have backlogs for up to two years. This makes one wonder if such a high profile case will jump the cue? It is highly unlikely that bail will be refused. I speculate that bail will be granted at about R1 million (US200,000), it would be a great surprise to see bail been refused.
The outcome of the case will rely solely on evidence. South Africa police services (SAPS) do not have a very good reputation in collecting or storing evidence. Many murderers have been set free due to lost evidence and etc. The SAPS has dismissed many members for taking bribes and it seems that money could make evidence disappear in this country. However, that is pure speculation.
Anti Gun lobbyists are now jumping on this high profile case. But, South Africa has very strict Gun laws / controls in place that is of course for legal gun owners. The majority of violent crimes in South Africa come from illegal firearms which are plentiful due to the history of South Africa. An illegal firearm such an AK47 could sell for as little as US$100 on the street. In South Africa, legal gun owners to go through a lengthy process of obtaining a fire arm. This includes examinations on fire arm laws, practical gun handling and psychological investigations and must also include motivation for owning a fire arm. The majority of civilians handed in their firearms to be destroyed a few years back after the new gun laws came into effect. One must understand that South Africa has the highest murder capita in the world and other violent crimes are everyday events and most do not even enter the news. Legal Gun owners in South Africa know that you can not just shoot someone unless your life is in danger. In South Africa a gun owner is not allowed to shoot someone for protecting property, for example if someone breaks into a home well the owner is there, the owner may not shoot the burglar unless the burglar tries to stab or shoot the owner. Having a fire arm for self defense is almost a must for any business owner who handles cash or travels. Legal Guns are not a problem in South Africa, illegal guns are!
In a nut shell this will be a very interesting case in the South African justice system. All eyes from across the globe will be glued as the state prosecution takes on the finest legal team that money can buy.